Haywood Street Fresco of Asheville, NC
Featured: "Haywood Street Fresco"
Haywood Street Congregation
Asheville, NC
Exit BR Parkway MilePost: 384
Close-ups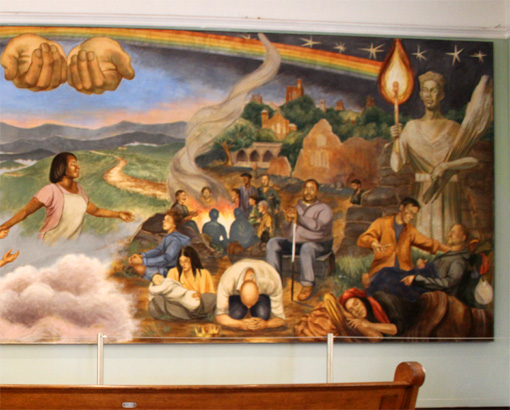 Lead Fresco Artist:
Christopher Holt
Trail Member:
Haywood Street Congregation
Construction Photos by:
John Warner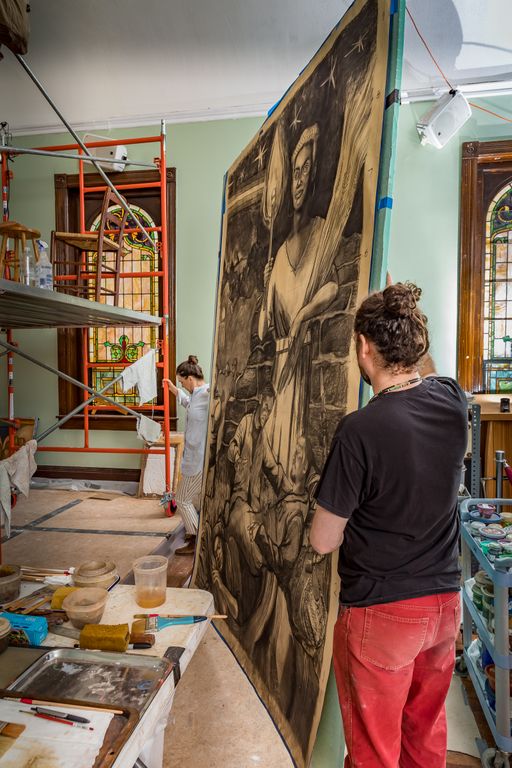 Mural Description
Featured Mural - "Haywood Street Fresco"
Affirming sacred worth, restoring human dignity, and sabotaging the shame of poverty, the Haywood Street Fresco announces, in plaster and pigment, that you matter.
Many of the world's great masterpieces in art were inspired by religious themes and faith stories. Too often, however, religious art, particularly in the Italian Renaissance period, was made over in the image of those in power who were paying for it. God was rendered European and male. Jesus was more prince than peasant. Salvation meant being upper class.
The Haywood Street mission and ministry aims to shed light instead on the God who abandoned heaven to take up residence as a homeless man on earth, who loitered on dirty street corners, who broke bread with outcasts and touched the untouchable. He loved most what -- and who -- the world had discarded.
The Haywood Street Fresco portrays Jesus' most enduring sermon, the Beatitudes, where he begins, "Blessed are the poor"
Visitors are invited to view the fresco when the church is open, Monday - Thursday, 9:00 a.m.-3:00 p.m., and during weekend viewing hours. Visit
visit.haywoodstreetfresco.org
for a schedule of viewing times when a docent will be available to guide your visit, or contact April Nance to schedule a group visit.
Fresco Location:
297 Haywood Street
Artists Bios
Christopher Holt, Lead Artist
Christopher Holt was born in Asheville, NC in 1977. Raised in the mountains of Haywood County, his exposure to the natural beauty of WNC informs his artistry. Christopher grew up drawing and painting, eventually finding his way to the art department at UNC-Chapel Hill. There, his attention was captured by the Native American Artist Kimowan Metchewais and he learned much about the creative process as well as storytelling through art. After Chapel Hill, his travel lust took him to Central and South America, where he was exposed to ancient sites including Copan in Honduras, Tikal in Guatemala and Chichenitza in Mexico. He also discovered the fresco paintings of Diego Rivera.
Upon returning to Asheville in 2003, Christopher s path crossed with the legendary artist Benjamin Franklin Long IV , who was founding a school in the mountains dedicated to the study of drawing and painting. Christopher quickly became a devoted student at the Fine Arts League of the Carolinas. Over time he became an integral part of the school as well as Long s fresco work. After a decade of working with Long, Holt established his own studio in Asheville.
Christopher has continued traveling, painting and finding inspiration abroad, always returning to NC to show his work and teach, often working with students in the Asheville City Schools. His recent travels have taken him to Cairo, Egypt, Tuscany and the Dominican Republic where he has facilitated the painting of many large murals in a small village where children of Haitian descent worked alongside Dominican children to complete pictures of peace and community in a country caught up in racial injustice.
The painting of the fresco at Haywood Street was a culmination of years contemplation, planning, and community effort. Christopher's dream of completing a fresco at Haywood Street is truly a labor of love.

Anselme Long, Apprentice
Anselme Long is an Asheville native. As a son of N.C. Artist Ben Log IV, Anselme's interest in visual art began as a young child. His serious studies in traditional realism began as a teenager, working with his father and his father's friends and students. He has desired to work on a fresco project since he was 9. This was around the same time he met Christopher Holt, during his fathers Morganton fresco project. The Haywood street fresco is the first fresco team Anselme has had the privilege to join. He graduated from UNC Chapel Hill in 2018 with a degree in Art History.

Caleb Clark, Assistant
A classical realist who lives and works in Asheville, NC, Caleb Clark was educated in the art of buon fresco at the Fine Arts League of the Carolinas. Following an apprenticeship with Benjamin F. Long, Caleb has worked as a member of multiple fresco crews. He has assisted Ben Long, Roger Nelson and Christopher Holt in creating frescoes throughout the Carolinas.

Jill Hooper, Assistant
Jill Hooper is from North Carolina and New York. She worked under D. Jeffrey Mims for an extended period in North Carolina as well as in Florence, Italy. While in Italy, Jill studied still life, portraiture, and the figure. She also studied at Universite de Haute Bretagne in Rennes, France where she learned printmaking. Hooper studied portraiture with a focus on the sight-size traditions with Charles Cecil in Florence. In 2006, she participated in the apprentice program under Benjamin Long IV at the Fine Arts League of the Carolinas, and assisted Long with the Crossnore fresco in the mountains of North Carolina.

John Dempsey III, Assistant
John Dempsey was raised in Charleston, SC. He received a Bachelor's degree in Anthropology from the University of North Carolina at Chapel Hill, 1993-1998, and then attended the Florence Academy of Art, 1995-1996.
John was a Student/Teacher at the Fine Arts League of the Carolinas from 2002-2006, then became a full-time teacher of Drawing and Painting at the school from 2007-2012. He has assisted Ben Long on numerous frescos. He has lived and worked in Asheville for the last eighteen years.
Italian Renaissance art has always been the strongest influence on Dempsey's work. He maintains a studio in the River Arts District where he works on oil paintings, drawings, and etchings.
Fresco Location: 297 Haywood Street
Copyright &copy Catch the Spirit of Appalachia, Inc non-profit 2016-2099