AMT @ Chimney Rock Village, NC
Chimney Rock Village Mural
"Postage Mural Series"
Chimney Rock Village, NC
Exit BR Parkway MilePost: 384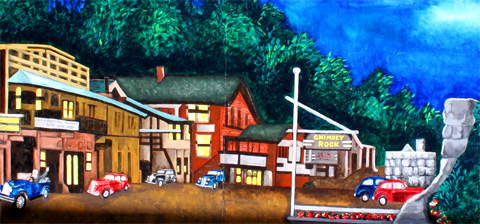 Local Artist:
Amy Wald
Trail Member/Sponsor:
VisitNCSmallTowns.com
Mural Description
Bob Burns was the president of the CDA at the time of installment. Bob was also a member of the village council, president of the fire department and is the prior owner of Unique Expressions. Bob is the gentleman in the picture waving back. Mr. Burns lived in an apartment above his business.

This mural is part of a postage size mural series painted by artist Amy Wald. You maybe able to find several more of the small murals as you stroll down main street.
Copyright &copy Catch the Spirit of Appalachia, Inc non-profit 2016-2099