AMT @ Lake Lure, NC
Flowering Bridge Living 3D Mural
Town of Lake Lure, NC
Exit BR Parkway MilePost: 384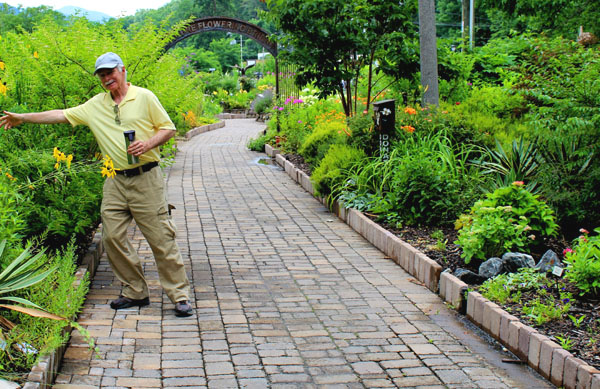 Mural Artist:
Amy Wald
Trail Member/Sponsor:
Rutherford County Tourism
Official Website:
Lake Lure Flowering Bridge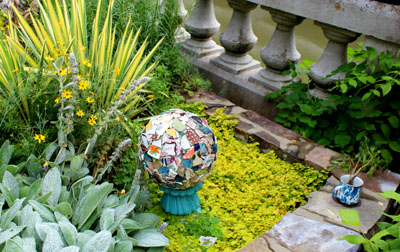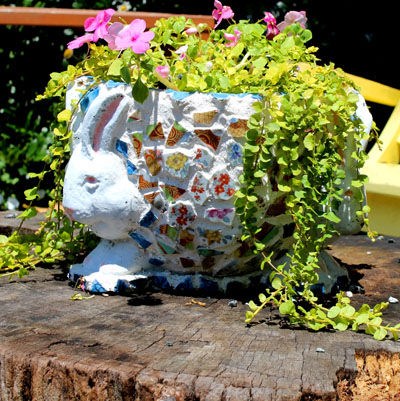 Mural Description
When the NC Department of Transportation completed a new bridge across the Rocky Broad River in Lake Lure, they took traffic off the bridge that was built in 1925. The historic bridge was turned over to the Town of Lake Lure and a community group came together to preserve, maintain and enhance the bridge and its surrounds. Since that time (late 2010), volunteers formed the non-profit Friends of the Lake Lure Flowering Bridge (LLFB), raised funds and, with initial help from a landscape architecture firm, designed and constructed the gardens. The LLFB is maintained entirely by volunteers.

The gardens extend along the Town of Lake Lure walkway for more than 550 feet, including the bridge itself. There are more than 2000 species of plants. Tucked throughout the gardens are whimsical creations that add to the joy of an estimated 150,000 annual visitors, including photographers. Our visitor books include postings from all 50 states and many other countries. Dedicated in 2012, the gardens now offer a Sensory Trail for the visually impaired, including a mobile phone audio tour. As seasons change, there is always something new to enjoy. Because the plantings meet standards to attract birds and butterflies, the LLFB has been designated as a National Wildlife Habitat, a Monarch Waystation, and a member of the Rosalynn Carter Butterfly Trail.

The original mural, which was installed in 2015, has been replaced in 2018 by the stunning poppy and butterflies mural created by Amy Wald, a talented local artist.
Artist Bio: Amy Wald
Amy Wald is the creator of high quality, one of a kind, bark, burl and twig frames, mirrors and rustic furniture. Some of the frames contain her original oil paintings. Amy is a highly respected member of the Chimney Rock and Lake Lure artist community and is a strong supporter of the Lake Lure Flowering Bridge.
Copyright &copy Catch the Spirit of Appalachia, Inc non-profit 2016-2099