AMT @ Robbinsville, NC
Creation of Historic Mural Project
"Beloved Women of the
Snowbird Community"
Robbinsville, NC
Doreyl has created an initial rough mural sketch in shapes & colors for the very beginning of the mural likeness to show some of the attention that will be given to detail in the final mural painting process...
Continue checking back often to see the complete unfolding process showing several cherokee muralists at work on this historic piece of public art for downtown Robbinsville.


Rough Mural Sketch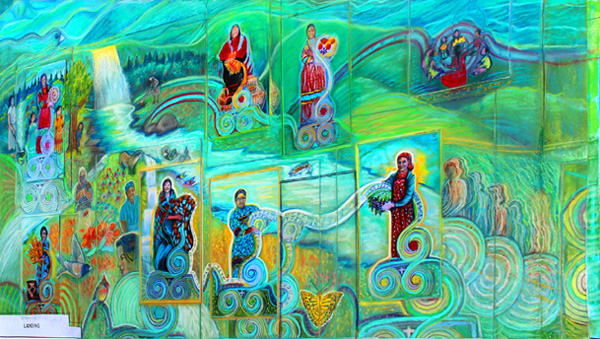 Master Mural Sketch in final stage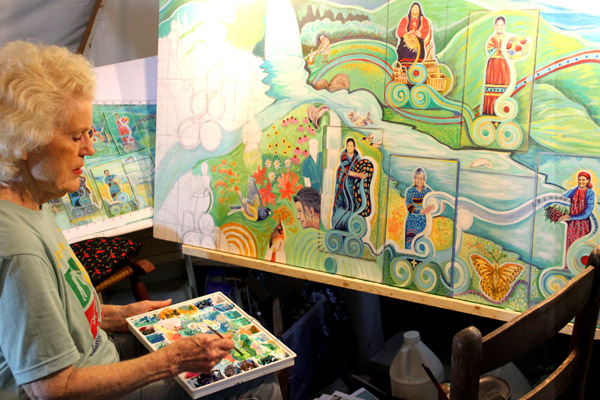 Workshop with the Cherokee artists to prepare the process for painting the mural panels, which will be attached to the big cement wall, There are 7 panels to highlight each of the seven beloved women of the Snowbird Community.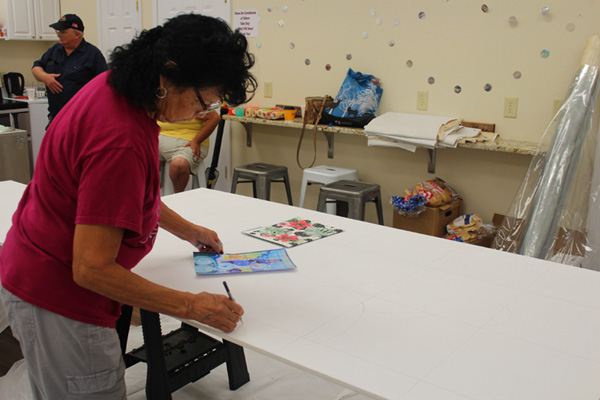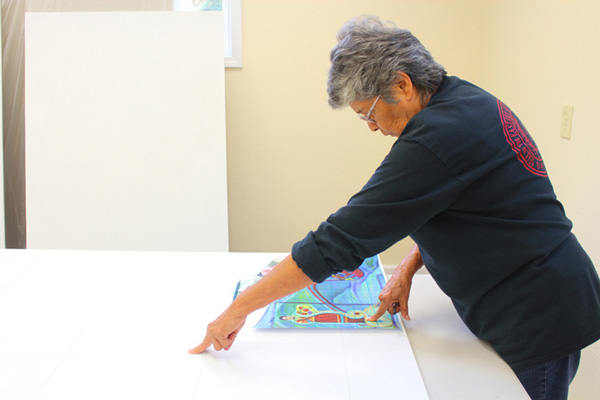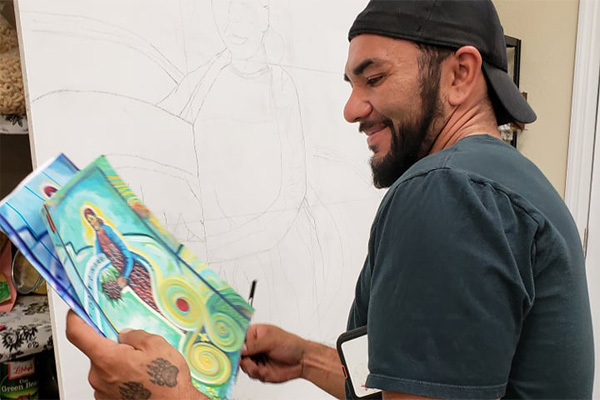 Lead Mural Artist: Doreyl Ammons Cain
Member/Sponsor: Robbinsville Downtown Association
Mural Descriptions
This mural project celebrates the achievements and recognition of the women of the Snowbird Cherokee community in this collaborative mural to be located in the town center of Robbinsville. This mural intends to build relationships and trust across lines of difference while celebrating an under told and important story. The Snowbird Cherokee are a community that is part of the Eastern Band of Cherokee Indians, whose land base is in Graham County. While most mainstream shared knowledge about the Cherokee centers around their removal via the "Trail of Tears," the Snowbird Cherokee carry the reputation of resilience and tradition, having hidden in their mountains to escape the forced removal of their people. That same spirit of pride and survival remains with them to this day and there is no better evidence than in the lives of their many strong and gifted women. The Cherokee people have long celebrated a traditional way of honoring those within their community who have displayed a true love and concern for their people and the preservation of their culture, history, and nation. The revered title of "Beloved Man" or "Beloved Woman" is given only to those who epitomize the qualities expected of a Cherokee. Snowbird Cherokee women have proven to be strong, wise, fearless, and filled with creativity as they have persevered through the trials of history. This remarkable community mural will bring these qualities alive for all to see.

The mural is expected to take many months to paint. So stay tuned for the unveiling date in the spring of 2020.
Copyright &copy Catch the Spirit of Appalachia, Inc non-profit 2016-2099