AMT @ Stuart, VA
US Post Office New Deal Mural
"Receiving the Mail on the Farm"
Stuart, VA
Exit BR Parkway MilePost: 177.7

Close-Ups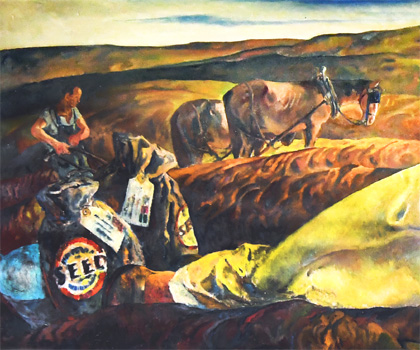 MURALIST: John E. Costigan(1888-1972)
Mural Photo by:
Amanda Collins
Mural Descriptions
Featured Mural - "Receiving the Mail on the Farm" John E. Costigan's "Receiving the Mail on the Farm" was installed in the Stuart, Virginia Post Office in 1942. This mural is the third of three very similar post office murals completed by Costigan and commissioned by the Section of Fine Arts of the U.S. Department of the Treasury as part of the New Deal public works. The other two were installed in Rensselaer, Indiana in 1939 (with the mural having the same title) and in Girard, Ohio in 1938 which has since been inadvertently destroyed in 1962 and was titled Workers of the Soil. All three post office murals depict a similar scene of a farming family pausing their work to read the mail they had received.

The Stuart and Rensselaer murals portray a father reading to his wife and children what could be an invoice for the bags of seed pictured while draft horses wait patiently for the work to continue. In both paintings the mother is holding a small child. There is an obvious contrast between the Stuart and Rensselaer murals. The Stuart mural is brightly colored and draws your eyes right to the feminine mother. Rensselaer s mural is quite the opposite. Costigan uses very dark colors and draws your eyes to the masculine father. It is said that Costigan used his family as muses for the figures in his art and often likened the female figures to his wife, Ida.

The subject of many of Costigan's works have been centered on landscapes and family, two things Stuart and Patrick County have a great abundance of, making this community a fitting location for the mural. Location: 101 N. Main St
Artist Bio
John Edward Costigan was born in 1888 in Province, Rhode Island. Orphaned at 13, he went to New York City, got a job with a lithography company, ultimately became a sketch artist, and worked there on and off until 1930. A self-taught artist, Costigan was quickly successful enough to exhibit a painting at the Corcoran Gallery, Washington, D.C., in 1916. After serving in the U.S. Army in World War I, he married Ida Blessin, a sculptor who had served as a model for his paintings. They bought an 11-acre farm in Orangeburg, New York, then a small rural community about 25 miles north of New York City. His family and the farm are the subject of much of his art.

His art flourished in the 1920's. He won 19 prizes, among them 5 prizes from both Art Institute of Chicago and the National Academy of Design including its Saltus gold medal as well as 4 prizes from New York's Salmagundi Club and 3 from the American Watercolor Society. In 1921, at New York s Rehm Gallery, he had his first one-man exhibition. Elected to the National Academy of Fine Arts he was thereby entitled to add after his last name the initials N.A., which stand for National Academician. His art found a ready market in these years, and as a result much of it now hangs in museums across the country. His second solo exhibit came in 1927 at the Art Institute of Chicago.

The Great Depression began in October 1929, leading to the closing of factories and businesses and to bank failures. Unemployment rose rapidly until it peaked at 25% of the workforce of the nation in 1933. Costigan was unable to sell his art, and there were fewer exhibitions with smaller prizes. President Franklin Roosevelt's administration developed a variety of programs to provide work for the unemployed, including programs for artists. In addition to the three commissions Costigan received to paint murals in post offices for the Treasury Department's Section for Fine Arts, he and Ida were employed by the Federal Art Project of the Works Progress Administration (WPA). When the federal art projects ended at the beginning of World War II, Costigan found work at a defense plant. Able to devote himself more fully to his art in the 1950's, he won 20 prizes.

The first major retrospective of his career was held at the Paine Art Center in Oshkosh, Wisconsin in 1965 when he was 72. Costigan's crowning recognition came in 1972 when New York's Salmagundi Club awarded him its Benjamin West Clinedinst Medal for distinguished achievement in painting. Other retrospectives were hosted after his death, notable among them a retrospective of his prints at the Swope Museum of Art in Terre Haute, Indiana in 2000. Costigan died in 1972, Ida in 1975. They are buried in the cemetery of St. Anthony's Roman Catholic Church in Nanuet, New York, not far from their farmstead home.
Copyright &copy Catch the Spirit of Appalachia, Inc non-profit 2016-2099